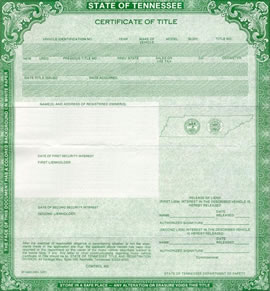 HI, folks Big Ed here at ARI Agency.
This week's story is about selling your used auto and keeping a record of the transaction.
A client that lives in Tellico Village, Tennessee called to see if he would have auto insurance coverage for an accident that he was not involved in and did not have ownership of the vehicle involved in the accident.
Now you ask, why would he need auto insurance coverage if he did not own the vehicle and was not involved in an accident?
Mr. Client sold his vehicle to an individual about 10 months ago, they agreed on a price, client signed the back of the Certificate of Title to the vehicle and Mr. Vehicle Purchaser went down the road. Now Mr. Client calls the insurance company and deletes the vehicle off his policy, because he sold it and no longer owns it. All should be good with the transaction, Right?
Not so fast, about 6 months later Mr. Client gets a certified letter from a lawyer that his is being sued for damages caused by the vehicle he sold to Mr. Vehicle Purchaser. But wait I sold the vehicle to Mr. Vehicle Purchaser months ago, the lawyers office informs him that the vehicle is still in Mr. Client's name, and since he has no proof of the sale, Mr. Vehicle Purchaser has no insurance or not enough insurance, the lawyer's office wants Mr. Client to pay the lawyers client's damages, medical bills, and attorney fees.
What can Mr. Client do? The easiest this is to have a copy of the title given at the time of the sale to Mr. Purchaser. But what if he did not keep a copy of the title? Mr. Client may need to hire an attorney to help him prove in court that he was not the responsible party of the accident and did not own the vehicle at that time.
Therefore: it is recommended to always keep a copy of the title when selling with the purchaser's name address, amount, and date of the sale. Maybe even a copy of their Driver's License. The best way to be sure that this does not happen is to go to the clerk's office with Mr. Purchaser and change the vehicle at the time of sale.
I hope you find this story helpful.  If we can help with any personal or commercial insurance need in Loudon County Tennessee, give us a call or text at 865-986-9086.
Stay tuned for more blogs each week at Blog – ARI Agency (ariagencylctn.com), follow us on face book at https://www.facebook.com/easttninsurance,